Hello:
Once again I am linking up for Sunday Social!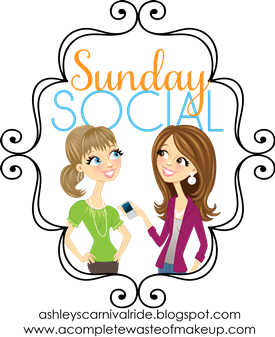 Here are my answers to this weeks questions~
1. 5 songs you'll listen to the rest of your life:
All I ask of you - Sarah Brightman
Rebel Yell - Billy Idol
Like a Prayer - Madonna
Mr. Blue Sky - Electric Light Orchestra
Little Bird - Annie Lenox
2. 5 things on your bucket list:
Visit the UK
Visit Japan & Korea
Learn another language fluently
Actually sew a Complete outfit!
Go sky gliding
3. 5 celebs you'd love to hang out with for a day:
Not ALL at the same time mind you!
Jessica Simpson
Christina Hendricks
Kevyn Aucoin (RIP)
Rachel Roy (ROY not RAY)
Mindy Kahling
4. 5 things you always carry on your purse:
Lip gloss
Lip balm
Candy
A pen
Mascara
5. 5 books on your reading list:
The Alchemist - Paulo Coehlo
How to be a woman - Caitlin Moran
The Handmaid's Tale - Margaret Atwood
March - Geraldine Brooks
East of Eden - John Steinbeck
6. Share the last 5 pictures on your phone
This is the Pigeon that got in thru 2 revolving doors and then kept staring at me
Red Lips and glasses - I just need a typewriter and I can be a 50's secretary
The Chicago Art Institute - went to see the Picasso exhibit
My favorite Picasso piece - I think it looks like ME!
I don't think if you blind and deaf you should play soccer in the street
Hope you all had a great weekend!