Hello!
It's time for Sunday Social!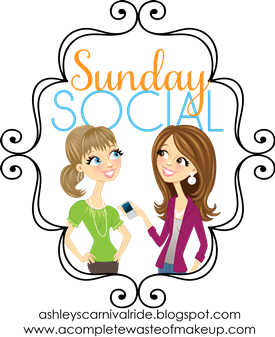 1. What is one movie you are terrified to watch?
The Mothman Prophecies, my friend and I started to watch it like 10 years ago and just got the hebie jeebies and I'm scared!
2. What is one TV show you have always wanted to get into but haven't yet?
I have 3 shows I have been meaning to start watching:
1) Downtown Abbey
2) Vampire Diaries
3)Scandal
3. What is one daring activity on your bucket list?
Para-gliding
4. Would you ever travel alone?
Absolutely! I have done it quite a bit! I've gone to L.A., Montana, North Dakota and all over the US by myself. I think I would like to NYC next and then London!
5. What activities do you like to do alone?
Honestly, pretty much everything. I am very happy in my own company, I dine out alone, go to movies alone. I do have a boyfriend, and we live together, but we have differing schedules so... sometimes I just have to go it alone. I especially like make-up shopping alone!
Any activities you like "best" alone?
Jasmine