Hello!
It's Sunday, so I am linking up for Sunday Social!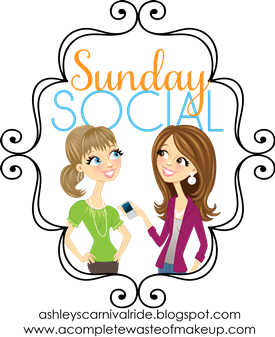 1. Favorite thing to do on a rainy day?
Sleep in, then have breakfast, read, sleep, read, sleep and maybe fit a movie in.
2. Favorite thing to do on a Summer weekend?
In my adult life I have rarely had "traditional" work schedules, so I rarely have Sat & Sun off. But for the sake of this question what do I do with 2 days off in a row in the Summer... Sleep in then go have brunch with boyfriend, shop at interesting design oriented stores, and then when it gets dark and cooler go on a walk to go get Dairy Queen. 2nd day Sleep in, then go to botanical gardens and enjoy all the plants, lunch out on the town and then see a summer block buster movie. If we aren't doing something like that we are usually camping.
3. Favorite Spring accessory?
Delicate jewelry
4. Favorite way to spend a Winter day?
Same as a rainy day! Except with more blankets!
5. What is your favorite season and why?
Fall! I love the weather, the clothes, the release of cosmetic value sets for Christmas in October...
6. Best birthday you ever had?
When I was 25 I went to Vegas for 5 days with my good friend and saw Billy Idol in concert, it was a lot of sun, fun and drinking!
What's your favorite spring accessory? It was hard for me to think of something "spring"?
Jasmine