Hello:
It's Monday again and time for the Monday Blues Blog hop!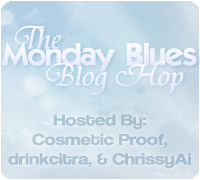 I really enjoy this blog hop because I have found so many great new blogs to read - enjoy!
I am also joining the Blog Love Therapy blog hop today:

I am also always trying to find beauty bloggers above the age of 30 so that our skin care and beauty regimes are more alike. And I truly READ all the blogs I follow!
Happy blog hunting!
Jasmine