Hello:
It's Sunday and time for Sunday Social!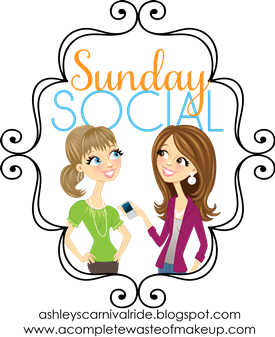 I feel like I've been talking A LOT about myself since I started the Blog Everyday in May challenge, but here's some more for you! (I have a review of a product tomorrow - I promised it wouldn't turn into a non-beauty blog!)
Here's some questions with 4 answers!
4 favorite things to do on a weekend
As I've mentioned I don't work a traditional work week so my weekend is Tues and Wednesday. So that means everything is open and quiet!
1) I love to sleep in!
2) I like to run all my errands in fell swoop (2 hours and DONE)
3) Read for like 4 hours uninterrupted
4) Make a special dinner on Tues night
4 things you would do with $100,000
1) Pay off any debt
2) Take a trip to the UK
3) Buy a new laptop
4) Buy a 6 month well-coaching plan at the Galter Life Center
4 favorite books you've ever read
1) Clan of the Cave Bear - Jean Auel
2) Jane Eyre - Charlotte Bronte
3) Snow Flower and the Secret Fan - Lisa See
4) Random Family: Love, Drugs, Trouble, and Coming of Age in the Bronx - Adrian Nicole LeBlanc
4 favorite snack foods
1) Chips and Pico De Gallo
2) Candy
3) Cheese and Crackers
4) Chex Mix
(All those begin with C is that weird?)
4 things that you must do daily
1) Besides basic hygiene - all my skincare stuff and applying sunscreen
2) Read whatever book I'm reading
3) Give my cat some snuggles
4) Give my BF some snuggles and talk
Any book suggestions for me? Or snacks that don't begin with C?
Jasmine